Do you have a comparison chart of the nutritional content of dried black soldier fly larva vs crickets or mealworm
Dehydrated Black Soldier Fly Larvae
I'm looking to compare the nutritional content of freeze dried BSF larva compared to freeze dried crickets and/or mealworms, do you have that info?
Status:
Open
Dec 10, 2021 - 07:51 PM
---
1

answer
View More Product Details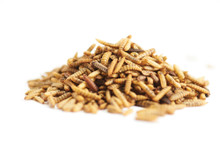 Dehydrated Black Soldier Fly Larvae
Dehydrated Black Soldier Fly Larvae Free Shipping - arrives in 2 to 5 days These are dehydrated and not live BSFL! Roast dried BSFL are 100% natural Though they are dehydrated they are still packed with natural oils, protein and vitamins and of course the highest levels calcium of any feeder in...
See More
View Details
View all Dehydrated Black Soldier Fly Larvae Questions & Answers