if i put a heat pack in my package will they still hold at post office
Activated 72 Hour Heat Pack
Status:
Open
Jan 17, 2021 - 04:14 PM
---
1

answer
Answers

Jan 17, 2021 - 04:32 PM
Only if you choose "Hold for Pickup" on the product page
View More Product Details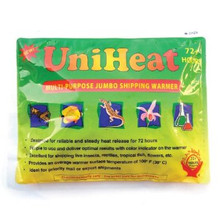 Activated 72 Hour Heat Pack
Activated Heat Pack Added to Ship Box These will be activated at shipping and provide 72 hours of warmth Have a heat pack added to your box that will stay warm for 72 hours. Only 1 pack is needed for most orders. Disposable, biodegradable and environmentally friendly. Contents - Iron Powder, water...
See More
View Details