Answers

Sep 28, 2019 - 03:27 AM
To keep them lively as long as possible, they must be able to continue eating from inside of the bean and also receive moisture.
Once weekly, spray the beans (actually seeds) with water to give the worm inside a drink. Let the water soak into the bean, then dry your beans with a paper towel before placing back in their case.
If they are kept in a dark, cool place they will stay alive the longest, and can be safely stored in your fridge and will go dormant for up to a year.
The little moth larvae (
Laspeyresia saltitans
) has hatched inside the bean; them trying to get to the seed's meat is what causes the bean to move on its own. They will also jump when warmed by your hands or put in a warm spot. Eventually, they will form a cocoon inside of the bean and go dormant. Only a small percentage will survive pupation and emerge as a tiny moth. The moth that emerges only lives a few days, and is harmless to clothing, plants, etc. They are very specific to needing another moth to breed with and then having the seeds of the Mexican Sebastiana plant to lay eggs on.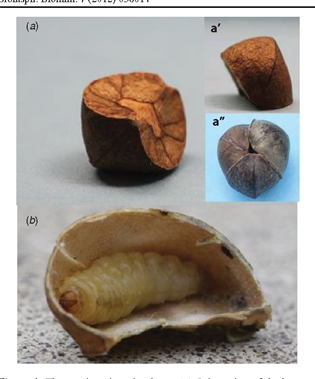 Photo courtesy of Bioinspiration & biomimetics scholarly article